Impalila Island can only be accessed by boat from the town of Kasane, in Botswana. One must travel more than 85 miles by road and 3 miles by boat – crossing the border four times in the process – to reach the island.
Until recently, the island's 1,091 residents, most of whom make their living by farming and fishing, were cut off from even the most basic health services. Thanks to a national Health Extension Program, however, this is no longer the case.
The Government of Namibia and Ministry of Health and Social Services (MOHSS) assigned two Health Extension Workers (HEWs) to live on the island and provide a package of basic, essential health services. These HEWs represent a major strategic push from the Government of Namibia to expand access to health care services in Namibia's most remote regions. Thus far, more than 1,400 HEWs have finished a six-month training course and been deployed to communities throughout the country.
And while there are challenges to serving communities spread out across Impalila Island, residents have expressed their gratitude to the MOHSS for including them in the program. The two HEWs based on the island* provide services such as first aid, health promotion, and screening for newborn danger signs. Their schedules are posted at the local health clinic and, despite the travel difficulties over rocky, muddy and often slipper roads, they are not deterred from meeting daily with their clients.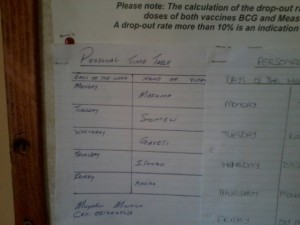 The HEWs do face other types of challenges in reaching their patients, however. On one occasion, an HEW tried to meet with adolescents to discuss sexual health issues.
He recounted: "I approached the school principal to request permission to give health promotion on certain days of the week to learners, but I was so disappointed when the principal would not allow me, and instead informed me of the lengthy process that we would have to follow. These procedures require the Directorate of Health in the region to write a letter to the Directorate of Education to get permission for me to come to the school to provide health promotion."
Such delays can be frustrating when the demand and need for health information and services is so high, but the HEW did not give up. He travelled to the Namibian Planned Parenthood Association office in Katima Mulilo to collect different types of educational pamphlets with titles such as "It's okay to say no," "Ten good reasons to not be a teenage parent," and "Sexually Transmitted Infections." He gave the pamphlets to the school life skills teacher to distribute to students.
Another challenge related to population movements. Pregnant women typically move to the much larger town of Katima Mulilo to deliver, and only come back to the village when the baby is two or three months old. This makes it difficult for an HEW to provide a full package of health services for both mother and baby at the appropriate intervals. As a result, HEWs provide what support they can, including an expectant mother with a proper referral letter to a nearby facility, allowing her to receive prompt and appropriate care during the remainder of her pregnancy and after her delivery.
The work of these HEWs is recognized and greatly appreciated by their communities and by other health workers on Impalila Island. As the nurse in charge of Impalila Clinic said: "HEWs are an important part of the Ministry's strategy to improve our community's quality of health. For us here, we have already seen the impact of their work in the communities: reduced numbers of children defaulting on immunization, pregnant women starting antenatal care early, and increased numbers of clients referred."
* HEWs did not want their real names used in this story.