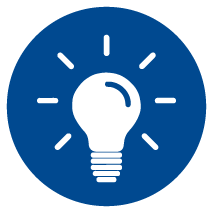 Innovations
Closing gaps in coverage, quality and equity of health services requires that proven, high-impact interventions be implemented at scale. It also necessitates conceptualizing, developing and taking to scale novel processes and products to end preventable child and maternal deaths. Innovation not only helps developing nations catch up, but enables them to "leapfrog" over constraints to improve reproductive, maternal, newborn, child and adolescent health.
MCSP is a vital contributor to the global movement to end preventable newborn, child and maternal deaths. The Program uses USAID's definition of innovation, which includes both product and process innovations:
"Novel business or organizational models, operational or production processes, or products or services that lead to substantial improvements in executing against development challenges. Innovations are not limited to products, drugs, or diagnostics, but could also include a novel approach or application of a technology, service or intervention."
MCSP is building on work begun under USAID's predecessor Maternal and Child Health Integrated Program to continue supporting expansion of the evidence base for innovative approaches, and facilitating locally-owned and context-sensitive adaptation of these life-saving innovations.
The Program is currently focused on implementation of six priority innovations:
Product Innovations
Uterine Balloon Tamponade: In settings without timely access to high-quality comprehensive emergency obstetric and newborn care, the uterine balloon tamponade can be lifesaving when other interventions fail to stop postpartum hemorrhage.
Bubble Continuous Positive Airway Pressure: This strategy provides low-income countries with a simple, low-cost method of reducing the 20-38% percent of neonatal deaths due to respiratory failure.
Process Innovations
Reaching Every Community / Quality Improvement: Addressing equity gaps among communities is essential to improving national coverage of routine immunization. Building on the globally accepted Reaching Every District strategy, Reaching Every Community / Quality Improvement focuses on equitable coverage via quality improvements processes, data-driven strategies, and ownership at the local level.
Possible Serious Bacterial Infections Guidelines: Making antibiotic treatment simpler, easier to access, and more acceptable to families in resource-limited settings would dramatically reduce the nearly 420,000 annual newborns deaths due to infections every year. These guidelines provide community health workers with evidence-based recommendations to identify serious infections and to use simple, safe and effective antibiotics rather than solely resorting to referral of hospital treatment.
First Time/Young Parents: Programs that neglect young parents and adolescent reproductive health can integrate the MCSP Young/First Time Parent Model into health systems, improving the quality of health services necessary to prevent the 16 million unintended pregnancies among girls 15-19 years of age each year.
Gestational Age Estimation: Precise estimation of gestational age and estimated date of delivery—regardless of resource level—facilitate appropriate birth planning and complication readiness. They also improve the capacity to provide appropriate, time-sensitive interventions for improving maternal and newborn outcomes in the context of both antenatal and intrapartum care.
Our ultimate goal is to have MCSP-supported countries contribute to progress related to each — from development and introduction of these innovations, to full scale-up.
To download MCSP's innovations fact sheet, click here.