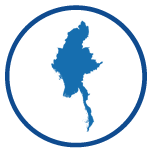 Burma
Started: October 2014 / Ended: March 2019
MCSP reduced maternal and newborn mortality and morbidity in Burma by strengthening the midwifery profession. In collaboration with the Ministry of Health (MOH) and other partners, we promoted best practices in maternal and newborn health care, and provided capacity building support to the Myanmar Nurses Midwives Association.
We focused on evidence-based, high-quality interventions to reduce the leading drivers of maternal mortality in the country: postpartum hemorrhage, pre-eclampsia/eclampsia, and sepsis. MCSP also addressed the major causes of newborn death through improved neonatal resuscitation, prevention and management of pre-term birth, care for preterm/low birth weight newborns, and identification and management of newborn infections. And we worked with the MOH to provide national technical assistance for malaria in pregnancy and integrated community case management.
To read a summary of work in Burma, click here.
Intervention Areas:
Country Data
---
MCSP analyzed coverage disparities across RMNCH indicators for MCSP program countries. Click below for country-specific data.