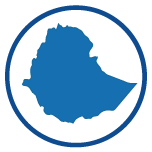 Ethiopia
Started: March 2013 / Ended: December 2018
MCSP worked in Ethiopia under two scopes of work: community-based newborn care; and strengthening basic emergency obstetrics and newborn care.
The Community-based Newborn Care/Newborns in Ethiopia Gaining Attention (CBNC/NEGA) program supported the Ministry of Health to scale-up high-impact interventions in three regional states. At both the community and facility level, we reduced neonatal morbidity and mortality through demand creation, universal provision of quality high-impact services, and strengthened support systems.
Roughly 80% of deliveries in Ethiopia occur at home, and newborn care-seeking behavior and practice are not universal. We combated this through early identification of pregnancies and follow-up through the delivery and the postnatal periods — with the ultimate aim of increasing access to those services proven to improve birth outcomes.
Moreover, by identifying training needs and targeting 42 health centers lacking basic emergency obstetrics and newborn care, MCSP increased the availability and utilization of high-quality services in USAID priority regions. We improved referral and linkage mechanisms as well as access to postpartum family planning services, including IUDs. And in collaboration with the Ministry of Health, MCSP helped to develop a standardized quality improvement approach and tool for facility-level care.
To read a summary of our CBNC work in Ethiopia to date, click here.
Intervention Areas:
Country Data
---
MCSP analyzed coverage disparities across RMNCH indicators for MCSP program countries. Click below for country-specific data.