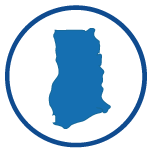 Ghana
Started: October 2014 / Ended: June 2019
MCSP improved health outcomes for HIV, malaria, nutrition, family planning, and maternal, newborn and child health services in Ghana. Building on work begun under USAID's predecessor flagship Maternal and Child Health Integrated Program (MCHIP), we supported the Ministry of Health and Ghana Health Services to better prepare midwives and nurses to deliver high-quality care.
The Program standardized and approved related strategies, guidelines, training materials, tools, and monitoring systems. We ensured these are correctly implemented in MCSP-supported districts, strengthening the system to provide the best services possible.
In addition, MCSP helped to reduce the spread of infections and diseases in Ghana, including Ebola viral disease, through enhancement of infection prevention and control (IPC) practices. In regional and district hospitals in five regions – Ashanti, Brong Ahafo, Upper West, Upper East, and Eastern – the Program worked with staff at targeted health facilities to improve their IPC technical competency and ability.
To read a summary of work in Ghana, click here.
Intervention Areas:
Country Data
---
MCSP analyzed coverage disparities across RMNCH indicators for MCSP program countries. Click below for country-specific data.