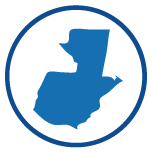 Guatemala
Started: March 2016
MCSP Guatemala is a three-year project to reduce maternal and newborn mortality and rates of chronic malnutrition in five departments of the Western Highlands region of Guatemala:
San Marcos,
Quiché,
Huehuetenango,
Totonicapán, and
Quetzaltenango.
The Program works closely with the Government of Guatemala, providing technical assistance to the Ministry of Health (MOH) at the central and local levels to increase their capacity. Additionally, MCSP is strengthening MOH-supported interventions for reducing chronic malnutrition and maternal, neonatal, and child mortality and morbidity in 30 municipalities in the Western Highlands.
Intervention Areas:
Country Data
---
MCSP analyzed coverage disparities across RMNCH indicators for MCSP program countries. Click below for country-specific data.
Select Health and Demographic Data for Guatemala
GDP per capita (USD)

3,903.5

Total Population

16,342,897

Maternal Health
Maternal Mortality Ratio (deaths/100,000 live births)

88

Skilled birth attendant coverage

66%

Antenatal care, 4+ visits

86%

Newborn Health
Neonatal mortality rate (deaths/1,000 live births)

13

Infant mortality rate (deaths/1,000 live births)

24

Child Health
Under-five mortality (deaths per 1,000 live births)

29

Under-five mortality due to acute respiratory infection

7%

Children with ARI symptoms seen by medical professional

50%

Immunizations
Diphtheria-pertussis-tetanus vaccine coverage (3 doses)

74%

Percent of districts with >80% DPT3 coverage

60%

Family Planning
Modern contraceptive prevalence rate

54.1%

Total fertility rate

3.2

HIV
HIV prevalence, adult

0.6%

ART coverage

30%

Health Systems
Density of physicians (per 1,000 population)

0.932

Density of nurses & midwives (per 1,000 population)

0.897

Total Health Expenditure per capita (USD)

233

Sources: All data are from the World Health Organization, World Bank, and United Nations Children's Fund.