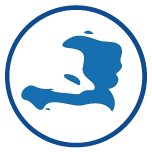 Haiti
Started: April 2014 / Ended: January 2018
In Haiti, MCSP improved outcomes for HIV/TB, family planning, WASH, nutrition, maternal, newborn and child health, immunization, gender-based violence, and child protection. Through the Ending Preventable Child and Maternal Deaths (EPCMD) and Services de Santé de Qualité pour Haïti-Nord (SSQH-Nord) programs, MCSP strengthened health systems and improved health service delivery using high-impact technical interventions.
Through EPCMD, we provided technical assistance directly to the Ministry of Health to ensure that policies, guidelines and protocols were in line with globally accepted standards. By operationalizing three model referral networks and the establishment of National Training Centers — where providers employed the cascade training model in various reproductive, maternal, newborn and child health interventions — EPCMD helped to create a cadre of trained health workers capable of responding to the varying and complex needs of Haitians.
SSQH-Nord strengthened the use of the government's Essential Package of Health Services in Haiti's four northern departments by improving service provision, ensuring availability of facility supplies and materials, providing supportive supervision, and managing capacity building of the district level government. By focusing on evidence-based interventions along the continuum of care, SSQH-North worked at all levels of care to improve health outcomes at both the facility and community levels.
For more information on MCSP's work through EPCMD in Haiti, click here.
Under MCSP, PSI and its local network member, OHMaSS, also implemented the Haiti Social Marketing Program from April 2014 – September 2015. The program — which increased coverage and utilization of evidence-based, high-quality maternal and child survival products and services at the household, community and health facility levels — deployed a social marketing approach that included multi-channel behavior change communication and marketing, sales and distribution of related health products.
Intervention Areas:
Country Data
---
MCSP analyzed coverage disparities across RMNCH indicators for MCSP program countries. Click below for country-specific data.