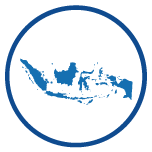 Indonesia
Started: December 2016 / Ended: September 2018
To help inform the efforts of the Government of Indonesia and development partners to reduce the country's maternal and newborn mortality, USAID supported the Indonesian Academy of Sciences (Akademi Ilmu Pengetahuan Indonesia- AIPI) to convene the first-ever Indonesia Maternal and Newborn Health Evidence Summit. A report published in 2013 — "Reducing Maternal and Neonatal Mortality in Indonesia: Saving Lives, Saving the Future" — was developed through a collaboration between AIPI and the US National Academy of Sciences, also supported by USAID. That report provided an authoritative analysis of maternal and neonatal health issues in Indonesia and high-level recommendations.
The Indonesia-specific Maternal and Neonatal Health Evidence Summit built on the 2013 report and applied, for the first time, the global USAID Evidence Summit methodology at an individual country level. This activity was the first step in an ongoing process of evidence review, formulation of recommendations for policymakers, and priority setting in Indonesia that will continue for many years. The Evidence Summit provided a platform for bringing all interested parties together to set priorities for action to improve maternal and newborn health in Indonesia. And, being the first time that such an event has been conducted at the country level, it also served as a model for other countries.
In addition to supporting AIPI to conduct the summit, MCSP worked with the University of Indonesia to implement a study of maternal and newborn mortality in Banten province. Called the Banten II study, it measured and compared maternal mortality in three study districts in Banten province to assess how maternal mortality has changed since the Banten I study was conducted in 2006. The study also developed and piloted the addition of a newborn mortality study methodology in two sub-districts. The results of the Banten II study provided important, new evidence to the Evidence Summit activity.
Evidence Summit background documents:
To read a summary of work in Indonesia to date, click here.
Intervention Areas:
Country Data
---
MCSP analyzed coverage disparities across RMNCH indicators for MCSP program countries. Click below for country-specific data.