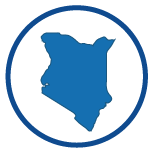 Kenya
Started: September 2014
MCSP is increasing the capacity of county health management teams in Kenya to deliver high-impact interventions. Building on work begun under USAID's predecessor Maternal and Child Health Integrated Program, we are focused on improving the quality and coverage of services, while strengthening local capacity.
MCSP is committed to documenting the impact of USAID's investments in the country, and we strive to relate MCSP's experiences on the ground back to national technical bodies. Ultimately, the Program aims to reinforce the Government of Kenya's capacity to effectively lead the charge to end preventable child and maternal deaths.
To read a summary of work in Kenya to date, click here.
Intervention Areas:
Country Data
---
MCSP analyzed coverage disparities across RMNCH indicators for MCSP program countries. Click below for country-specific data.