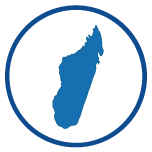 Madagascar
Started: July 2014 / Ending: April 2019
MCSP is helping to reduce maternal and neonatal mortality in Madagascar—a country committed meeting health targets by 2019 as part of the Campaign to Accelerate the Reduction of Maternal Mortality in Africa. We are building on work begun under USAID's predecessor flagship Maternal and Child Health Integrated Program, ultimately targeting 15 priority USAID regions (including approximately 60 districts).
With a focus on evidence-based interventions along the continuum of care—from pregnancy to the postpartum period—we are working at all levels of care to improve the capacity of health providers. To strengthen linkages between the community and health services, MCSP collaborates with bilaterals implementing activities at community level. We also coordinate closely with the Ministry of Health to ensure that policies are updated and aligned with key, globally accepted standards.
To read a summary of work in Madagascar to date, click here.
Intervention Areas:
Country Data
---
MCSP analyzed coverage disparities across RMNCH indicators for MCSP program countries. Click below for country-specific data.