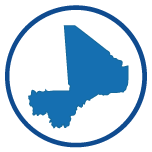 Mali
Started: May 2014 / Ended: June 2015
MCSP engaged a number of players in Mali — governments, policymakers, private sector leaders, health care providers, civil society, faith-based organizations and communities — to address the major causes of maternal, newborn and child mortality. Building on the success of USAID's predecessor flagship Maternal and Child Health Integrated Program, we worked to improve the quality of health services from the household to hospital.
MCSP aimed to increase coverage and utilization of evidence-based, high-quality interventions, and to close innovation gaps to improve health outcomes among high-burden and vulnerable populations. We fostered effective policy, program learning, and accountability for improved outcomes across the continuum of care.
Intervention Areas:
Country Data
---
MCSP analyzed coverage disparities across RMNCH indicators for MCSP program countries. Click below for country-specific data.