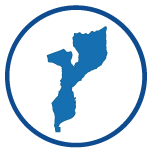 Mozambique
Started: October 2015 / Ended: June 2019
MCSP incorporated lessons learned from USAID's predecessor Maternal and Child Health Integrated Program and MCSP Bridge, particularly those experiences gained through implementation of the Model Maternity Initiative and integrated cervical cancer prevention and treatment, and family planning programming. We utilized an integrated referral network approach — and strengthened the Ministry of Health's leadership, planning and monitoring capabilities — to deliver high-impact interventions at various levels of health service delivery.
The Program focused on preventative and curative aspects of nutrition programming at facility and community levels, which was integrated into the reproductive, maternal, newborn and child health platform, as needed. MCSP addressed inadequate infant and young child feeding practices and anemia, and strengthened growth monitoring and referral / counter-referral systems.
Through a family-centered lifecycle approach, we worked to increase both access to and utilization of evidence-based interventions. The Program supported a robust integrated community component targeting children under five, which included nutrition and water & sanitation work, to bridge the continuum of care from the facility to the community. The approach was inclusive of adolescents and gender transformative programming.
To read a summary of work in Mozambique, click here.
Intervention Areas:
Country Data
---
MCSP analyzed coverage disparities across RMNCH indicators for MCSP program countries. Click below for country-specific data.