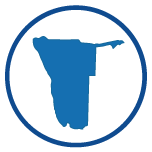 Namibia
Started: August 2014 / Ended: September 2018
MCSP built on the significant achievements of USAID's predecessor flagship Maternal and Child Health Integrated Program in Namibia to advance the United States President's Emergency Plan for AIDS Relief's blueprint for an AIDS Free Generation, USAID's country objectives as well as the Agency's global Ending Preventable Child and Maternal Deaths goals.
In collaboration with the Namibian Ministry of Health and Social Services, MCSP strengthened the country's Health Extension Program and HIV/Sexual and Reproductive Health interventions to deliver and sustain high-impact RMNCH and TB/HIV services. Focusing on the direct and indirect causes of maternal and child mortality — including HIV and AIDS, malaria, tuberculosis, malnutrition, pneumonia, diarrhea and other infectious diseases — MCSP supported the Government of Namibia's efforts to reach the country's most vulnerable and at-risk populations by taking health services into their communities.
To read a summary of work in Namibia, click here.
Intervention Areas:
Country Data
---
MCSP analyzed coverage disparities across RMNCH indicators for MCSP program countries. Click below for country-specific data.
Select Health and Demographic Data for Nambia
GDP per capita (USD)

5,461.60

Total Population

2,303,000

Maternal Health
Maternal Mortality Ratio (deaths/100,000 live births)

265

Skilled birth attendant coverage

91%

Antenatal care, 4+ visits

70%

Newborn Health
Neonatal mortality rate (deaths/1,000 live births)

15.9

Infant mortality rate (deaths/1,000 live births)

32.8

Child Health
Under-five mortality (deaths per 1,000 live births)

45.4

Treatment for acute respiratory infection

68%

Oral rehydration therapy for treatment of diarrhea

52%

Immunizations
Diphtheria-pertussis-tetanus vaccine coverage (3 doses)

83%

Percent of districts with >80% DPT3 coverage

88%

Family Planning
Modern contraceptive prevalence rate

55%

Total fertility rate

3.1

HIV
HIV prevalence, adult

13.3%

ART coverage, adult

50%

Health Systems
Density of physicians (per 1,000 population)

0.37

Density of nurses & midwives (per 1,000 population)

2.8

Total Health Expenditure per capita (USD)

423.00

Sources: All data are from the World Health Organization, World Bank, and United Nations Children's Fund.