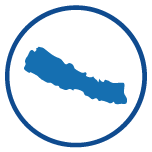 Nepal
Started: December 2016 / Ending: June 2019
MCSP in Nepal is conducting a study to inform the Child Health Division of the Department of Health Services' efforts to reduce newborn deaths from possible severe bacterial infection (PSBI).  The Program is assessing current practices to assess, treat, provide follow-up and refer sick young infants by both private sector non-physician providers in drug shops as well as private clinics operated by physicians.
The study is being undertaken in close collaboration with the Child Health Division and in consultation with key stakeholders. It builds on Save the Children's Saving Newborn Lives program 2016 situation analysis of the management of PSBI cases in drug shops in six of the country's districts. MCSP's larger, nationally representative survey will provide data to both characterize the current situation and serve as a basis for comparison in the future.
To read a summary of work in Nepal, click here.
Intervention Areas:
Country Data
---
MCSP analyzed coverage disparities across RMNCH indicators for MCSP program countries. Click below for country-specific data.