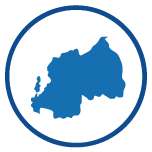 Rwanda
Started: April 2015 / Ended: March 2019
MCSP worked to reduce preventable child, neonatal and maternal mortality in 20 districts of Rwanda. We increased coverage and utilization of high-impact, low-cost interventions, while strengthening Ministry of Health capacity to manage and scale up these practices.
Throughout our efforts, we aimed to improve the quality, equity, gender sensitivity and sustainability of services along the continuum of care. This meant improving health outcomes in public and private sectors, as well as increasing community use of and demand for high-quality reproductive, maternal, newborn, and child health services. The Program also built capacity to use data for decision and action at all levels of the health system, increasing the ability to manage and control malaria as the country approaches pre-elimination.
To read a summary of work in Rwanda, click here.
Intervention Areas:
Country Data
---
MCSP analyzed coverage disparities across RMNCH indicators for MCSP program countries. Click below for country-specific data.