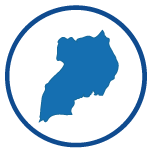 Uganda
Started: July 2014 / Ended: March 2019
MCSP supported the Ministry of Health and the Uganda National Expanded Program on Immunisation (UNEPI) in reaching every community and child with high-quality immunization services. We continued work begun under USAID's predecessor flagship Maternal and Child Health Integrated Program (MCHIP), with an added emphasis on new themes in the global health landscape — on gender, equity and quality.
The Program maintained a strong focus on sustainable scale up, strengthening health systems to deliver high-impact technical interventions with increased coverage over time. Support continued to five districts where work began under MCHIP, while we scaled up an additional 10-15 districts.
To read a summary of work in Uganda, click here.
Intervention Areas:
Country Data
---
MCSP analyzed coverage disparities across RMNCH indicators for MCSP program countries. Click below for country-specific data.