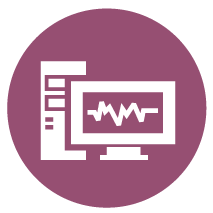 Measurement, Monitoring and Evaluation and Action-Oriented Learning
MCSP provides global leadership and country support to advance the measurement and collection of key reproductive, maternal, newborn, and child health (RMNCH) information that can be used to improve health outcomes.
At the country level, the Program's monitoring and evaluation (M&E) activities support governments in their use of improved metrics and methodologies to effectively collect data for assessing the coverage, quality and equity of RMNCH interventions. At the global level, MCSP collaborates with the World Health Organization and other international bodies to develop improved RMNCH indicators, data collection tools, and M&E guidelines that contribute to improved tracking of intervention quality and health outcomes both globally and nationally.
The Program has developed a large learning agenda that contributes to the global evidence base on effective approaches for improving RMNCH health outcomes. Our seven priority learning themes are:
Achieving sustainable impact at scale;
Quality;
Equity, including gender equity;
Health systems strengthening, including private sector;
Community action for health;
Innovations to address key gaps in coverage, quality, or equity; and
Measurement and data use for action and accountability.
Learning activities are designed to be "action oriented" and follow the strategy of focusing on "short loop" and practical learning aimed at improving implementation practices to drive high coverage, quality and equity for high-impact interventions. MCSP also works intensively to study and support implementation processes for scale-up of more than 30 high-priority, high-impact interventions and introduction of promising innovations.
To download MCSP's measurement, monitoring and evaluation and action-oriented learning fact sheet, click here.