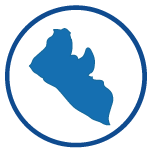 Liberia
Started: March 2015
The Liberian health system and infrastructure has suffered greatly due to the Ebola crisis and its repercussions. MCSP is helping to restore health service delivery at primary health facilities, working with the Government of Liberia to roll out infection prevention and control (IPC) trainings and protocols. Ultimately, we aim to renew the confidence of the Liberian people in the national health system, and providers' abilities to deliver high-quality and accessible health services.
MCSP is strengthening IPC practices — and supporting the Essential Package of Health Services — at 61 target facilities in Bong, Nimba, Lofa and Grand Bassa Counties through: training; intensive supportive supervision; triage; improvement of waste management; and planning and management of essential IPC commodities and supplies.
In addition to improving the country's reproductive, maternal, newborn and child health care services, MCSP is also generating demand for these services through community level work.
To learn more about MCSP work in Liberia, download this infographic.
Intervention Areas:
Country Data
---
MCSP analyzed coverage disparities across RMNCH indicators for MCSP program countries. Click below for country-specific data.