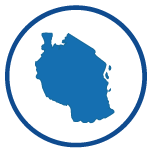 Tanzania
Started: June 2014 / Ending: June 2019
MCSP is working with the Government of Tanzania (GoT) and in-country partners to expand access to high-quality reproductive, maternal, newborn and child health services (RMNCH). By helping to introduce and scale up high-impact, sustainable interventions, we are increasing utilization of services across the continuum of care—from the hospital to the community, and from pre-pregnancy through postnatal care. MCSP also supports health systems strengthening, HIV/RMNCH integration, and pre-service education.
In Kagera and Mara regions, we are collaborating with partners to improve the coverage, quality and sustainability of a fully integrated package of services. And throughout the country we are providing immunization services (Kagera, Simiyu and Tabora); addressing cervical cancer prevention (Iringa and Njombe regions); and scaling up comprehensive emergency obstetric and newborn care, and postpartum IUD services (Zanzibar). In total, the program covers 225 health facilities.
To read a summary of work in Tanzania to date, click here.
Intervention Areas:
Country Data
---
MCSP analyzed coverage disparities across RMNCH indicators for MCSP program countries. Click below for country-specific data.