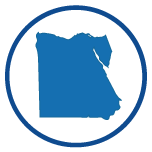 Egypt
Started: April 2014 / Ending: June 2019
Through the Improving Maternal, Child Health and Nutrition Services project, MCSP is strengthening Egypt's Raedat Rifiat (RR) community health worker program. We are systematically identifying abilities, weaknesses, and opportunities of the national program, with the aim of making feasible recommendations for improvement.
The Ministry of Health and key stakeholders are closely involved in this process, with a view to building a foundation from which to fortify the Ministry's capacity and encourage the engagement of a diversity of actors and partners. As selected recommendations are implemented, our support to the Ministry of Health will continue.
To read a summary of work in Egypt to date, click here.
Intervention Areas:
Country Data
---
MCSP analyzed coverage disparities across RMNCH indicators for MCSP program countries. Click below for country-specific data.
Select Health and Demographic Data for Egypt
GDP per capita (USD)
2,412.727
Total Population
97,553,151
Maternal Health
Maternal Mortality Ratio (deaths/100,000 live births)
52
Skilled birth attendant coverage
91.5%
Antenatal care, 4+ visits
82.8%
Newborn Health
Neonatal mortality rate (deaths/1,000 live births)
12.8
Infant mortality rate (deaths/1,000 live births)
19.4
Child Health
Under-five mortality (deaths per 1,000 live births)
22.8
Treatment for acute respiratory infection
68.1%
Oral rehydration therapy for treatment of diarrhea
8.2%
Immunizations
Diphtheria-pertussis-tetanus vaccine coverage (3 doses)
94%
Family Planning
Modern contraceptive prevalence rate
56.9%
Total fertility rate
3.265
HIV
HIV prevalence, adult
<0.1%
ART coverage, adult
27%
Health Systems
Density of physicians (per 1,000 population)
0.814
Density of nurses & midwives (per 1,000 population)
1.434
Total Health Expenditure per capita (USD)
156.637
Sources: All data are from the World Health Organization, World Bank, and United Nations Children's Fund.