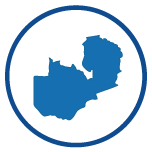 Zambia
Started: July 2014 - June 2015
MCSP efforts in Zambia built on work begun under USAID's predecessor flagship Maternal and Child Health Integrated Program (MCHIP) through the Saving Mothers, Giving Life (SMGL) endeavor. SMGL aims to reduce maternal mortality by 50% in select target districts, with particular attention given to the labor/delivery and immediate postpartum periods.
In July 2014, SMGL expanded to a total of 16 districts. The same month, USAID obligated one year of funding to MCSP to continue the SMGL programs supported by MCHIP, with expansion to one additional focus district. MCSP also provided technical assistance in essential newborn care to four SMGL districts supported by the Swedish International Development Agency.
To read the MCSP/Zambia final report, click here.
Intervention Areas:
Country Data
---
MCSP analyzed coverage disparities across RMNCH indicators for MCSP program countries. Click below for country-specific data.